I am SO mortified by this VLOG, but I'm feeling the pressure, so I guess I'll go ahead and post.
I'm once again joining up with
Mama M
for Five Question Friday. Only this time, you get to hear my voice. This was so super hard to do w/ Ben behind the camera & Rustee trying to steal the show!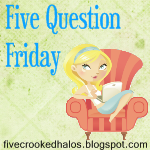 Rules for 5
QF
:
Copy and paste the following questions to your blog post, answer them, then watch for the
linky
to appear on Friday morning (on a "new" post...a post with my answers to the questions...), and link up!
Questions for Friday, August 26
th
:
1.
Did you make any fun purchases this week?
2.
If you could go to any musical concert, what would it be?
3.
What is your least
fav
/ most
fav
house chore?
4. W
ould
you prefer new appliances or clothes?
Here is take one...we didn't get too far:
So, then we straightened up and did questions 1 & 2 from the bedroom:
So, Rustee totally tried to steal the show on this one! He knows that he isnt supposed to dig on the comforter, so he was totally taking advantage. And, I feel like I'm trying out for Design Star or something. I'll most def show some pics when it's painted and finished.
Onto part 2 done in the kitchen. I feel like I blubbered through this one, but I didn't want to start over, so here it is:
So, there you have it. I totally hate the way I sound on there! For one thing, I was talking in a fun voice before the camera came on & then snapped into "serious" mode once it was on. Oh well, I didn't want to reshoot! Enough torture is enough. Ben was really making fun of me for making a VLOG for all of my "make believe friends" and then was super supportive at the end with "well, it's not something I would want to watch." Thanks, Hon, I appreciate it. His comment was that I talk about him controlling the $ too much. Sorry about that!
I hope you like it...cause it may be the last for awhile!!!!
- Posted using BlogPress from my iPhone