That's a lot of F's!!
It's that time again!!!
Link up and answer the questions, too. I love reading the answers.
No blog? Well, just post a comment under my "sweet thoughts."
You can grab a button from
Mama M
by clicking on this one: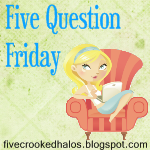 (if you startted following last week...I havent started following back....sorry about that!!!!! Everytime I try to get to everyone's pages from the pics under "follow" it shuts my computer down. But, I have not forgotten...it's coming, promise!!!!!)
OK, for 5QF here are the questions:
1. How much time do you spend on the computer a day?
2. Will you pay for your children's college or raise them to pay for their own way?
3. Have you ever been in a car accident?
4. What is your favorite book?
5. Do you make your bed everyday?
___________________________________
And here are my answers:
1. How much time do you spend on the computer a day?
TOO MUCH!!! I am on the computer most days from 9-5. When I get home, though, the last thing I want to do it use the computer some more. My job is faily laid back and when I have time, I have time to browse around and have fun on the computer...or write blogs...so, there is no need at home.
2. Will you pay for your children's college or raise them to pay for their own way?
Hmmmm...that's a tough one. But, we will prob try to help as much as we can. Our parents paid for our college educations and we are SO thankful that we were able to start adult/married life debt free. What a blessing!!! My parents had rules, though. They would "take care of things" until
A) we graduated
or
B) we got married.
That is why Ben and I dated 5 years before we got married!!! I graduated in May and we got married in June. His parents, luckly, paid for his last year of college even though we were married already.
Although we dont have kids, yet, we know that one day we will (!!!!) so we are already thinking in that direction. We have a financial planner who helped us set up a life insurance plan that also grows $$ on the side. It's called a VUL. After 10 years, there is no penalty for taking out that $$...so by the time we have an 18 year old, we will have quite a bit (each) to help them. When we DO have kids, we will also start a Cloverdale IRA (?) to help pay for school...it will pay for K-12 and college so we like those options if we decide on private school K-12. I also heard about people that take their tax return for each child and put that away each year like it doesnt exist and by the time the kid goes to college they have something like $18,000. So, hopefully if we are smart and diligent, we will be able to bless our children like our parents blessed us!!!!
3. Have you ever been in a car accident?
Not while I was driving. There was a time that I was in a wreck every year...I think in 7th, 8th, and 9th grades. Since then I havent been in one besides some little rear endings, which I think is pretty good for living in a big city! KNOCK ON WOOD.
4. What is your favorite book?
Oh, books. Where to begin. I am a children's book aholic (hello, my name is Kristina). I have 12 (TWELVE!!) boxes of children's books in boxes in my garage, some in my office here, and some out in my house for Bryson. TWELVE!!! My all time FAVE kids's book is "Today I Feel Silly" by Jaime Lee Curtis (yes, the actress) but I also love all Kevin Henkes books!!!
For MY enjoyment...I think my all time FAVE is "Redeeming Love" by Francine Rivers. I love all things by Francine and cant wait for her new book to come out this month! But, "Redeeming Love" changed my life!! I first read it in college on a weekend. This is a heafty book, people. I swear I was a recluse all weekend. I ate and read...that's it. I was SO engulfed in the story!! I just started re-reading it last weekend and am loving it all over again!!!!!!!!
I also love Karen Kingsbury's series' about the Baxter Family. I MOURNED, laughed, and cried, with that family and seriously missed them when I finished reading. They had become my friends. I would start to tell a story "I had this friend..." and then would have to stop b/c it was NOT a friend, it was a fictional character. I own all 14 in the series and still miss them!! I made my FB status "I miss the Baxter family" one day and I had a lot of people respond that they felt the same way!
5. Do you make your bed everyday?
That would be a huge FAIL. I was HORRIBLE about this growing up, but my mom always made us do it. I never saw a point. I SO love a made bed, though. I make it anytime we have company b/c we never sleep w/ the real comforter on it and I love my comforter and ALL my tens of millions of throw pillows. LOVE. Sadly, it doesnt get made often enough. Ben's parents have the rule that the last one out has to make it...but I have never been able to enforce that one since I am always the first one out.
So, what about you guys?!?!? I cant wait to see your answers and to meet some new followers and start following you all!!