It's Five Question Friday again!!!!! Let's get right to it.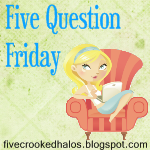 Here are this week's questions:
1. Worst trouble you ever got into as a teenager?
2. Are you a morning person or a night person?
3. Are you a one-handed or a two-handed Texter?
4. Democrat, Republican, or Independent..or maybe even Green Party (whatever that is).
5. Are you a pet person?
Wanna join in? Just copy and paste the above questions and link up at the bottom. It's a GREAT way to met new people and talk about yourself... ;)
--------------------------------------------------------
1. Worst trouble you ever got into as a teenager?
At home, I guess out of the 3 of us girls I was the "rebel." I was CONSTANTLY in trouble in my early teen years. But now that I look back...what did I EVER do?!?!? NOTHING!! At some point, that just stopped though...and really I think it was when I had just turned 17 and started dating Ben. Suddenly, I was never in trouble and made pretty good grades (except in History & Science, BLECH!). It also just happened to be right before my Sr year and M had headed out to college. Maybe it was because I was w/ Ben at all times, but my parents eased up on cerfew and most things in general. Anytime M came home, though, I always got re-grounded for something...usually my mouth. Like the time that I told her her haircut looked like a lesbian. What? What do you expect when she barges into my room EARLY in the morning after a late "wild" night and turns the light on and Feff says "Look at M's hair." I stand by my comment.
Anyway, on the the being in trouble thing. I was mostly grounded for my grades. Over and over again!! My school sent home D and F reports (in the mail) for EVERY D or F we made. Tests, quizzez, homework...EVERYTHING. Oh the joys of running to the mail before mom got there!!!! (Ben and I were discussing this the other day...he also went to this HS and had NO clue that they did this...nerd!) Mom had a HUGE file of all the ones I got...wonder if she still has it?!?! One funny story...when I was taking Chemestry w/ Coach M my Jr year in HS (Ben was taking Chem the same year, but as a Sophomore in the "honors" class & we would compare...my class was still on Chap 2 and his was halfway through the book!) we LOVED to get him off the subject!! We had only about 8 people in my class and it was like 2nd period. When we got into class, we would discuss who was going to derail that day. It was all planned out! There was a snake in the class, so some class periods were spent holding or feeding the snake. My famous line was "Mr M, we CAAAANT have Chem class today, I have a headache" in my whinest voice. For some reason, it always worked!! Or if one particular girl was gone for a day, we couldnt have class b/c he would just have to re-teach it for her the next day...that always worked, too! ANYWAY, we liked Coach M!!! So, I made a 20 something on a MAJOR test. I went in to see what my grade was (Ben's class was having class at that time) and he showed it to me as I knelt beside his desk. I BEGGED him, "You CANNOT send this home. Seriously. You CAN.NOT. send this home. I wont live through it." I was on my knees at this point and may have even had tears in my eyes. So, he averages my grade and finds that I still have a C average. So he says "Strina, (my HS nickname) I wont send it home UNLESS your grade drops below a C. If it drops to a D, this is going to be sent." PSHEW...needless to say, I am still alive. I just told my mom that story the other day.
Other things I was in trouble for was cerfew. My parents were STICKLERS when it was M and I. Like 5 minutes late and we were grounded for a LONG time. Even if we were at a friend's house in the neighborhood. Remember, this is before cell phones (even though we had a bag phone in the truck). It got ugly MANY times. The WORST for me, though was one Summer I went to the movies at the mall after a Camp reunion w/ a bunch of friends. Most were older. Mom told me to be home by 10, I think. It was a big group of us, but it had been arranged by Josh DeSha and he was the one driving me home. I think my dad had a "talk" with him about safety and cerfew before we left. Ugg! So, we go to the mall and have dinner and see that the movie (Multiplicity, maybe?) doesnt start until later. Pretty sure I called my mom on the pay phone and told her I would be later and she said 11 was fine. THEN, we find out that the move doesnt even start until 10:40. At this point, I was NOT calling home again. So, I prayed the rest of the night and didnt enjoy the movie b/c of my anxiety of getting home. We lived about 45 minutes from the mall and there were people to drop off first. So, by the time I get home I am 2+ hours late. THIS IS MAJOR. My mom was too mad to even speak at that point. So, I go to bed and know it's not going to be pretty the next day. The next day is Sunday and my dad has ANOTHER talk w/ Josh and I am mortified...poor thing, he was just the driver and got caught in the cross fire. I was grounded for LIFE.
When I got my ears double pierced (in college when I was 18) my dad thought I had joined a gang. When I got the cartlidge pierced, he thought I had gone over the deep end. Wonder what he would do now if I got my nose pierced like I want to?!?!
There were also the time that a cop stopped (as we were walking and screaming down the road) and asked what was in my can. It was Pepsi. He smelled it. OOPS!
Enough about being in trouble...I was a good kid and was NEVER in any serious trouble...just had STRICK parents. Sorry to be so long winded.
I'll keep the rest of these short:
2. Are you a morning person or a night person?
NIGHT. Majorly. Ben and I both are. There is NOTHING BETTER than sleeping in on a Saturday morning. We dont go to bed until midnight or later and are up for work early the next day...it KILLS me during the week (when I taught, I had a nap EVERY afternoon when i got home!!), but I LOVE my Saturdays!!!!
3. Are you a one-handed or a two-handed Texter?
I dont text alot. I have an old flip phone and no text plan. I text more than Ben would like me too, but its not a lot. It's only 1 handed since the phone is all small and stupid!
4. Democrat, Republican, or Independent..or maybe even Green Party (whatever that is).
I think I registered as an Independant when I first registered. But, I would say I am just flat out Conservative. That about covers it.
5. Are you a pet person?
I am a dog person. Obviously, we love our Rustee Blue. I am howerer,
not
a SHEDDING pet person. I would NEVER have a shedding pet in my house. It grosses me out (personal opinion, no judgement). We love our Rustee Blue and he pretty much runs the house. We think he's the best thing next to sliced bread.